Epoxy Asphalt Features
Epoxy Asphalt's most common applications are: 1) as a thin overlay (3/4 to 2 inch thickness) lightweight wear course for repair, replacement or new construction and 2) as a paving surface for orthotropic steel decks* where toughness and elastic composite behavior are critical. Several bridges have used Epoxy Asphalt chip seals as temporary wear surfaces during in-service bridge deck replacements such as the new deck segments recently installed on the Macdonald Bridge in Halifax, Nova Scotia.
A newer use of Epoxy Asphalt is as an extremely durable binder for open graded permeable pavements. Following is the link for a new video for the open graded use in NZ: NZ video.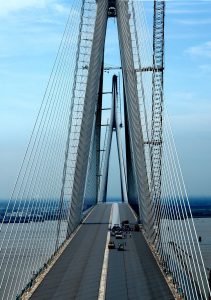 Sutong bridge paving train
Other benefits include:
Low Porosity Prevents Deck Corrosion
Superior Substrate Adhesion (Pavement Stays Bonded at High Ambient Temperatures)
Extreme Durability and Flexibility
Can be Installed as Thin Overlay (3/4″) if Added Weight is Critical
Roadway Open After 2-4 Hours (Light Traffic)
3-6 Times Stronger than Conventional Asphalt Concrete
Non-Melting Binder; Pavement Won'T Rut or Shove, Even with Heavily Overloaded Trucks
Binder Won't Oxidize and Harden Upon Aging Like Regular Asphalt
Lightweight Aggregate ok in Mix Design if Very Low Pavement Weight is Needed
Negligible Cure Shrinkage
Bond (Tack) Coat and Binder Will Not Melt and are Extremely Chemical Resistant
Installed with Conventional Asphalt Paving Equipment